Collection Item
HP Portable Vectra CS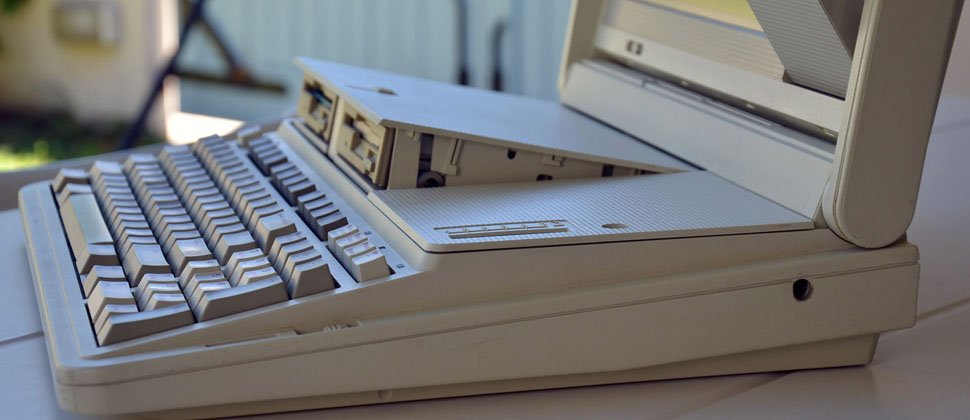 Brand:

Hewlett-Packard.

Model:

Portable Vectra CS, product code HP D1001A.

Origin:

USA.

Introduction:

1987.

Type:

Portable 8086-based personal computer, a portable version of the HP Vectra CS.

Functions:

IBM PC/XT compatible personal and portable computer with an 7.16 Mhz, 16-bit, 8086-compatible NEC V30 processor and 640 Kbyte of standard RAM. It has a foldable bay with two 1.44 Mbyte, 3.5" flexible disc drives (The HP Portable Vectra CS model 20 has one 1.44 MByte flexible disc drive and one 20 MByte hard disc unit as a mass storage). Also there are 4 I/O slots to connect additional adapters like memory expansion, modems and serial adapters. One slot has the standard display/printer adapter with a RGB monitor interface and a 25-pin Centronics-type parallel interface to connect an external monitor and printer. Operates with an external AC adapter or a battery pack. You can recharge the battery during normal use of separately connecting the adapter directly to the battery pack. The battery pack has an own LCD display gauge to show the battery charge.

Display:

12" yellow-green filter monochrome LCD display with adjustable tilt and contrast. It is IBM CGA and MDA compatible and has 32 KByte of dedicated RAM. Resolution: Character mode: 25 lines x 80 characters in cells of 8 x 16 dots, Graphics mode: 640 x 400 bit mapped pixels. The visibility is quite poor due to the lack of backlight. You can remove the LCD display unit in order to use an external monitor and convert this computer in a "desktop" version, a concept similar to IBM PC Convertible 5120

.

Keyboard:

Very robust 92-key keyboard with separate numeric keypad. It is compatible with IBM Enhanced PC keyboard, except the special key to change the Cursor/Numeric keypad mode. It has 12 programmable function keys and 4 indication LEDs for Caps Lock, Num Lock, Scroll Lock and Cursor/Numeric Keypad mode. Separate On/Off sliding switch.

Main chips:

16 bit Intel 8086 microprocessor @ 7.16 Mhz and a socket to insert an 8087 numeric co-processor.

Remarks:

Very robust and heavy portable/desktop computer. Next to the LCD display you have place to keep 6 flexible discs. This HP Portable CS did not succeed due to its large size and weight, relatively high price and non-standard media used (3.5 inch discs instead 5.25 inch).

Accesories:

External adapter.

Size:

16.6 x 13.9 x 3.6 in, 420 x 353 x 90 mm. Weight: 18 lb, 8 kg.

Condition:

(8/10) Good to Very Good, some marks on casing. Full working but the LCD screen shows some random vertical stripes probably due to a failure on the LCD plane connector.

Additional readings:

The HPMuseum.net of Australia is a very good site to download technical manuals and information about this computer and other products of Hewlett-Packard. Please click here.
| | |
| --- | --- |
| Pictures taken with | |