Collection Item
Fate Microcifra 3 "Dodge"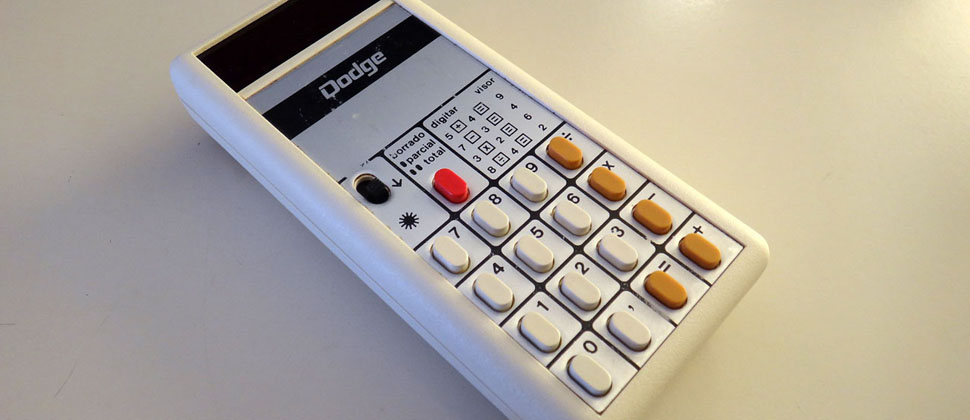 Brand:

Fate (Fábrica Argentina de Telas Engomadas), a tires manufacturer.

Model:

Microcifra 3 "Dodge".

Origin:

Argentina.

Introduction:

1975?, this example was built in 1976.

Type:

Basic pocket calculator with LED display.

Functions:

4-Basic function, constant, no memory. Operates with 6 (Yes: 6!) AA bateries or AC power with 9v adapter.

Display:

One block of 8 red LED digit with 9 magnify glasses (leftmost digit not used!).

Keyboard:

17 keys on flexible cooper switch plus On/Off switch with attractive colors and rare vertical layout. Includes a very brief operating instructions in Spanish.

Main chips:

Rockwell B5000CC "calculator on a chip" with datecode 7620 (around May 1976). Some pins are not used in this implementation (see pictures).

Logic comments:

Simple algebraic input, see examples printed on the keyboard template. Negative numbers are represented with "-" at the left of the first digit. Because there are 8 digit including the sign, you can display a negative number with a maximum of 7 digits. Automatic constant in the four functions. Overflow error is displayed with all decimal points on and is recoverable, simply you press "Borrado" (clear) to clear all decimal points and you can continue calculating. This calculator don't have the -0 bug, but have the ghost decimal position bug: If you type 2.25 + 3.75 you will read 6.00. No automatic display off to preserve batteries charge.

Translation of the used Spanish terms:
Borrado: Clear.
Borrado Parcial: Clear entry.
Borrado Total: All clear.
Digitar: Input.
Visor: Display.

Remarks:

Special version of the Microcifra 3 made for the car manufacturer Dodge in Argentina as a gift for new Dodge's owners.

Size:

5.71 x 2.56 x 1.18 in, 145 x 65 x 30 mm.

Accesories:

Pouch.

Condition:

(7/10) Good, some marks on the keyboard template, working.